The shop is stocked with a wide range of golf equipment, clothing and accessories from top brands including TaylorMade, Titleist, FootJoy, Cleveland, Srixon, Glenmuir, Sunderland and many more. On top of this, we offer an in-depth custom fitting service on all clubs from a putter right through to a driver. These services are offered at our state-of-the-art indoor teaching studio – The Cheshire Golf Studio. Here at Alderley Edge Golf Club, we also offer a comprehensive club repair service including re-grips, re-shafts, club lengthening, shortening and loft/lie alteration. We guarantee to have your clubs re-gripped within 24 hours! For a quote on a product or club repair, please call 01625 586200 (option 2) or email professional@aegc.co.uk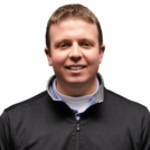 Charles Le Sueur - PGA Head Professional
After working in several golf clubs across Europe, I have recently been appointed Head Professional here at Alderley Edge Golf Club and set up the Cheshire Golf Studio.
I spent three years studying the golf swing at the University of Birmingham. I was awarded an upper second class honours degree in Applied Golf Management Studies. In my time in Birmingham I found a holistic approach to golf coaching to give students the fastest improvement. By combining technical swing coaching with golf fitness, golf mind coaching and custom fitting, I believe I can accelerate any players' rate of learning.
In 2008, I became a Certified Golf Fitness Instructor with the Titleist Performance Institute. This has given me the skills to look at a golfer and identify physical limitations which may be affecting the players' ability to make an efficient golf swing.
I have recently completed the PGA Advanced Diploma and in due course will be one of a small percentage of professionals to be awarded with 'PGA Advanced Professional' status. I am the youngest PGA Member ever to be awarded with this prestigious qualification.
I am still a keen player and I regularly play in PGA national and regional tournaments. I also work with a number of elite players, and understand that at the top level, the difference between winning and losing is minute. I place a large emphasis on helping my students to manage their own development. I also focus heavily on teaching my pupils to teach themselves. Due to the individual nature of the sport, I believe it is important for my pupils to acquire the knowledge to be able to diagnose and fix their own swing faults.
---