Enjoy better golf with our professional golf coaching
---
Golf coaching is all about you and what you want to get out of your game. We pride ourselves on being good listeners and aim to provide the best possible professional advice, whilst ensuring each lesson is tailored and enjoyable for the golfer.
Why Coaching?
I am passionate about helping you play better golf.
Every golfer enjoys the game more when they're hitting good shots and playing well. This is my mission for you.
Think back to your last few rounds and try to pinpoint an area that cost you shots…
Maybe, you had too many three-putts as a result of poor distance control? Or did you miss too many fairways to the right meaning you had to chip out sideways? It could be that you play well in practice rounds with your friends but struggle to replicate that in competitions?
Through my experiences in the game and our PGA education, we appreciate that every golfer is different. That's why we offer a range of lessons and packages to suit everyone.
What equipment do we have to get to the bottom of your golfing problems?
Flightscope club and ball tracking
High speed video analysis
K-Vest - 3D motion capture device measuring the sequencing, rotation, bend and side bend of your body throughout the swing
Boditrak - Analysing the way you interact with the ground throughout the swing
Lessons will cover:
Golf Fundamentals
Swing Basics
Short Game
Long Game
Course Management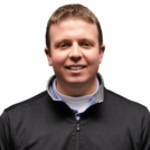 Charles Le Sueur - PGA Head Professional
After working in several golf clubs across Europe, I have recently been appointed Head Professional here at Alderley Edge Golf Club and set up the Cheshire Golf Studio. I spent three years studying the golf swing at the University of Birmingham. I was awarded an upper second class honours degree in Applied Golf Management Studies. In my time in Birmingham I found a holistic approach to golf coaching to give students the fastest improvement. By combining technical swing coaching with golf fitness, golf mind coaching and custom fitting, I believe I can accelerate any players' rate of learning. In 2008, I became a Certified Golf Fitness Instructor with the Titleist Performance Institute. This has given me the skills to look at a golfer and identify physical limitations which may be affecting the players' ability to make an efficient golf swing. I have recently completed the PGA Advanced Diploma and in due course will be one of a small percentage of professionals to be awarded with 'PGA Advanced Professional' status. I am the youngest PGA Member ever to be awarded with this prestigious qualification. I am still a keen player and I regularly play in PGA national and regional tournaments. I also work with a number of elite players, and understand that at the top level, the difference between winning and losing is minute. I place a large emphasis on helping my students to manage their own development. I also focus heavily on teaching my pupils to teach themselves. Due to the individual nature of the sport, I believe it is important for my pupils to acquire the knowledge to be able to diagnose and fix their own swing faults.
---